TL;Dr: Is the Gorilla Bow Portable Home Gym worth it for home workouts?
Yes! The Gorilla Bow takes the simple bow and arrow design and creates a full-body workout around it. It is perfect for a quick strength training or High-Intensity Interval Training (HIIT) Gorilla Bow workout right at home.
Check out our comprehensive Gorilla Bow review…



Gorilla Bow Review: Portable Home Gym
The Gorilla Bow puts a unique twist on the way resistance bands are used — strapping a few of them on the classic bow design. The folks at Gorilla Bow have created a fun workout routine to help you get a full-body strengthening workout in an easy to use format.
The Gorilla Bow is essentially an aluminum (aircraft grade) bow and a set of resistance bands that can be interchanged to increase or decrease the amount of resistance provided.
We are all familiar with rowing as an exercise — in fact, it is one of the best upper back exercises. Pulling a bow back takes a lot of strength and coordination between your upper body and core, resulting in a lot of muscles working at the same time.
In almost the same way, pulling the resistance bands on the bow back is a lot harder than it looks. And because the Gorilla Bow is designed to offer a full-body Gorilla Bow workout, it can be used to do a lot more than just the typical shooting pattern.
You can perform exercises like Gorilla Bow squats, bicep curls, tricep extensions, and shoulder presses with the bow. You can change the resistance for each exercise because the bow can hold 4 different resistance bands at the same time.
In-Depth Review: The Gorilla Bow Kit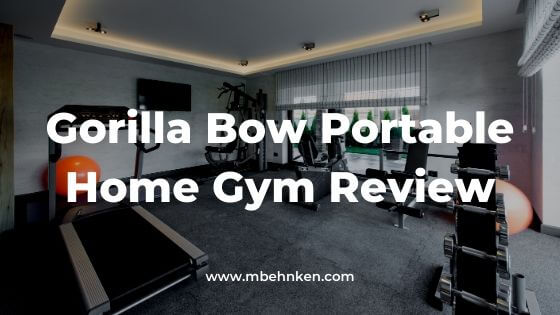 The aluminum Gorilla Bow 
The dimensions of the bow are 56″ x 9.5″ x 1.75″. It is constructed out of aircraft quality aluminum which is a high-tensile strength material that is also lightweight. The bow and resistance bands combined only weigh about 8 lb. The bow can handle up to 300 lb of force without bending or breaking and is more than enough to handle any exercise you attempt with it.
100% latex double-wall resistance cables 
You will get 8 cables with 10, 20, 32 45, 50, 50, 60 & 60 lbs of resistance. These bands will come in a carry bag. The bow has a "flexclaw" at each end making it really easy to attach or detach the bands. If you want to use your own bands or add additional bands for more resistance, you should be able to do so pretty easily.
90-day money-back guarantee and a 2-year warranty
Gorilla Fitness has a 2-year warranty on everything, including the resistance cables. I think this a pretty reasonable warranty for a product in this price range. Realistically, nothing can actually go wrong with the bow since it's just a solid piece of aluminum. The resistance bands, however, will be subject to wear and tear. On top of the warranty, Gorilla Fitness is also offering a 90-day money-back guarantee. So you can try it out for 3 months and see if you like it.
Gorilla Bow Review: What exercises can you do?
The Gorilla Bow is perfect for high-intensity interval training workouts. These are short workouts that help build endurance, boost metabolism, help you lose fat and give you a heart-healthy workout that leaves your body burning calories even 24 hours after you have completed it.
The Gorilla Bow offers a full-body workout. Popular exercises include Gorilla Bow squats and more.
Here's a list of some of the exercises you could do with the Gorilla Bow…
Front squats
Back squats
Lunges
Calf raises
Bicep curls
Tricep extensions
Chest press
Overhead press
Upright row
Crouching row
Crunches
Obliques
Of course, you don't need to limit yourself with these. In fact, the only limit is your imagination – you can come up with your own exercises and variations too!
Why go for The Gorilla Bow?


Reason #1: Economical and portable
You can now get all the workouts of traditional home gym machines but without the bulk. You can save money and space with one well-designed piece of equipment that does it all & is easy to move around.
Reason #2: Exercise all muscle groups
The Gorilla Bow combines resistance bands and high-intensity interval circuit training for a full-body workout. You can lose weight & tone your arms, abs, legs & glutes while also getting cardio in. It incorporates movements you're used to – like Gorilla Bow squats, bench press, curls & rowing – with heavy-duty resistance cords for added benefits.
Reason #3: Great for any fitness level
Whether you are a beginner or a professional athlete, the Gorilla Bow can fit your fitness needs. It comes with 4 adjustable levels of resistance (5 – 150 pounds) so that everyone can be challenged. The Gorilla Bow utilizes advanced resistance technology that doesn't rely on gravity (like traditional weights), so you can't cheat your movement with momentum.
Reason #4: Quality build and elegant design
Made from aircraft aluminum, the Gorilla Bow is built to last and can handle 300 lbs of tension. The FlexClaw design allows you to quickly and easily modify your resistance bands from one set to another.
Gorilla Bow Pros and Cons
PROS

CONS

Bow constructed out of   aluminum
Travel bag included
Offers full-body workout
Good warranty (money-back guarantee)

Bow doesn't fold – might not be very portable
Final Verdict: Is the Gorilla Bow worth your money?


All in all, the Gorilla Bow is a powerful piece of fitness equipment that does help you get a full-body workout wherever it is convenient for you. The portability is a major plus point and the design of the bow is simple but effective.
As someone who enjoys Gorilla Bow squats and overhead presses, the length of the resistance cables was very attractive to me. In some ways, the Gorilla Bow brings out some primal hunter instincts in me and makes me enjoy my daily Gorilla Bow workouts even more!
The best part, in my opinion, is that you can adjust the resistance so easily and that this bow is so portable. You could easily workout outside or take this wherever you go.
Final verdict: Gorilla Bow is a solid product that has positive reviews from users and is backed by a good warranty. I think you'll be happy to add this to your workout routine! Comment below and let me know what you think.
See also: