Today, the advent of online business has made it quite easy to set up a website. However, the real challenge lies in having it run successfully and making sure it stays relevant to both Google and your audience.
After all, online business has grown to become one of the most crowded places on earth.
So, you have to use the best practices and stay on top of trends so you can keep your consumers engaged and your content fresh.
And how do I know this?
My old fitness blog Ask The Trainer was once successful but over time, I got complacent and sloppy. I stopped publishing good content, building backlinks and keeping up with the growing competition.
The result?
My rankings and traffic tanked a lot!

I lost the fruits of my labor but in the process, I learned a valuable lesson.
Simply having engaging content on your website won't cut it. You have to invest time in regularly assessing, building and re-adapting your content.
Remember: You snooze, you lose.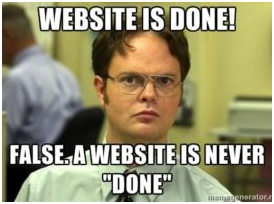 If you have an old loser site that needs fixing as mine did, don't simply give up.
Read on to discover some revival SEO tactics you can use to have your website up and running again like a boss!
?‍♂️ Why Most Sites Fail
A bad website can make or break the perception your site visitors have of you and your brand—and the most basic mistake can lead to a drastic change in your rankings and traffic.
Here is a list of common problems and the preventive measures you can take to avoid your site from becoming a loser at any point.
#1. Bad Design
Everyone's got a smartphone on them these days. These handy little devices provide easy access to a world of info at one's fingertips.
Consequently, it's fair to assume a major proportion of traffic coming into your site is from people on mobile devices.
In fact, 85% of adults think that a company's website, when viewed on a mobile device, should be as good or better than its desktop website.
This should be top-of-mind: utilize responsive website design.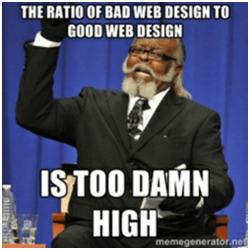 It's no surprise 57% of internet users won't recommend a business with a poorly designed website on mobile.
The solution is simple: you have to keep your end user in mind. 
Your users deserve the best and if you're not providing them an optimal viewing experience, don't expect them to come back.
#2. No Strategy
You can wing life but you can't wing a website.
Having a solid strategy in place is essential to your site's success.
I learned this the hard way. Without having a roadmap in place of how to go about structuring my site, it transformed into a cluttered content farm.
Simply going big on content in volume does little to reflect the quality. You can't compromise the latter for the former.
By doing so, I spread myself too thin and ended up losing rankings to the competitors that did have a strategy going on for them.
A good way to get started on finding a strategy that works for your content includes:
Know your audience so you can grow 'em later
Do your competitor research and examine their best practices
Write relevant content and match it to audience desires
Use SEO for link-building
Engage (consistently) on social media to build more traffic
Regularly check and optimize your content for quality. And if utilizing the skyscraper technique to scale content, use tools like Grammarly to check for plagiarism.
#3. Bad SEO Practices
According to marketing expert, Neil Patel, "No website can stand without a strong backbone. And that backbone is SEO."
And I can't agree more.
The internet is a crowded place and SEO is vital to help your website stand out. It helps your site gain greater searchability, credibility and builds trust with your consumers.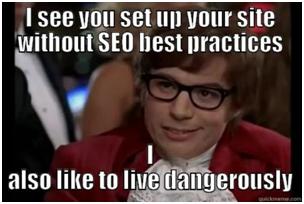 Point is, If you're not on page one of the search results, you're already lagging behind your competitors.
This makes the case for having a strong SEO game.
In my case, I stuck to traditional SEO tactics instead of catching up to the latest practices. This combined with the thin content led to the fall in traffic and rankings pictured earlier.
SEO tactics are constantly evolving and you have to continuously revamp and update your site strategy in line with these changes.
For example, with the emergence of voice-enabled searches, this is a new focus area for SEO.
Classic SEO practices to employ also include backlink building. Simple but vastly effective, the lack of backlinks was probably the number one reason behind the lagging of my website.
#4. No Maintenance
Building a website is not a one-off stop and if you work in that mindset, it will surely fail.
To have your site running at full capacity, you have to invest time into conducting regular audits, updating and backlinking it proactively and finding new ways to optimize site visitors' experience.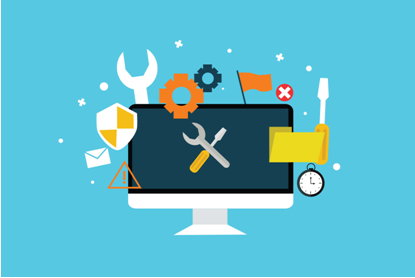 One of the reasons why my site became a loser was because I grew complacent and did not tune into the continuous process of improving it.
Although extra time and effort is needed to do this, it's well worth the cost.
Whether you choose to hire a website maintenance agency or solo the venture, here are a few basics to keep in mind:
Keep your content flowing: continually produce regular high-quality content, guest post, etc.
Keep your backlinks growing: if you're not building backlinks regularly, you're losing out big
Keep your software updated: content management system updates should be well integrated to your site such as for plug-ins
Keep your site speed up: a slow site will leave you sitting in the dust of your competition as they sprint ahead
Keep your site secure: take cyber-security measures to ward off malware and viruses
Keep your backups on hand: you don't want to risk losing all your hard work
? Revival SEO: How to Revive Your Dead Site
Now that you're aware of the pitfalls your site is prone to, you should be equipped with the knowledge of what to do if ever your site does fall into the trap.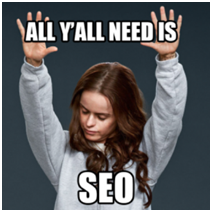 Enter: Revival SEO, a strategy to get (loser) sites out of its fix.
Here's a brief breakdown:
Audit to find your underlying problems
Finetune and ideate your brand goals
Build a solid content strategy
Maintain and continuously optimize your site
Be patient for the results
Let's dive in… ?
#1. Audit to find your underlying problems
Before you know where you're going, you have to know where you're at. The best way to find out is to conduct an audit of your website.
An audit is where you conduct a comprehensive analysis of all the factors that affect your website's visibility with search engines and your visitors.
A couple of good resources to get you started include Screaming Frog, Siteliner and Sitebulb.
The Screaming Frog audit tool acts as a website crawler, systematically browsing your website to help identify the technical issues at the core.

Some of its features which have come in handy include:
Identifying broken links
Discovering duplicate content
Auditing redirect links
Aiding with site visualisation
Every word you have on your website should serve a purpose and add value. If you have a lot of thin content, your visitors aren't gaining much.
Your website should also be structured in such a manner as to be visually attractive but also easy to navigate through. Users shouldn't get lost or have to click back and forth multiple times to get to the content they want.
Similar to Screaming Frog, Siteliner can be used to identify duplicate content issues and avoid the thin content dilemma.
On the other hand, Sitebulb can help identify the hierarchy of your site and better structure and organize your various pages and backlinks in the optimal way.
All of these audits form part of a holistic SEO audit. List out the various elements of your website that supplement your SEO strategy.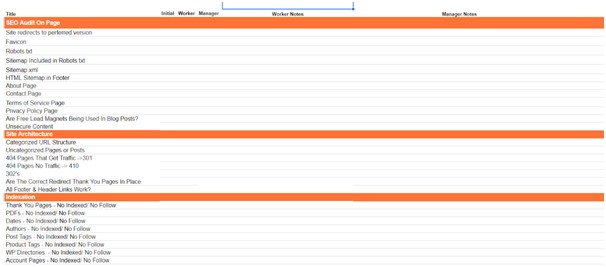 This will help you keep track of your progress over the course of various audits and stay updated on SEO trends.
Implement changes based off of the results of your technical, content and SEO audit. Whether this means cutting down on thin content, a design revamp or reorganizing the hierarchical structure, keep in mind the ultimate goal of the process.
#2. Fine-tune and ideate your brand goals
SEO tactics are dynamic but so are your customers. You have to make sure your online marketing tactics are in line with their changing needs.
A prerequisite to developing a golden brand strategy is doing the research required to get you there.
There are two elements to keep in mind: your customers and your competition.
As previously mentioned, getting to know your customers is the best way of reviving your site again. You may have lost touch with their mentalities in the time your site declined so refresh yourself.
Personalizing your content is the best way to drive an impact, build relationships and grow site traffic again. There are an abundance of resources on the web to help you with this.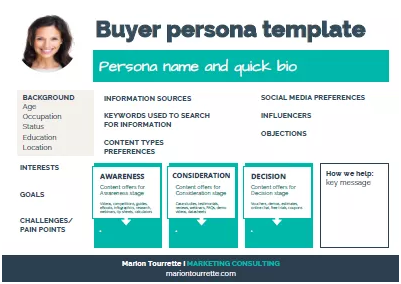 Next, doing an in-depth dive into your competitors will help you strengthen your own site offering.
An SEO competitor analysis is incredibly helpful and can help you understand what you're going up against and how best to beat them at the rankings.
Using a combination of your audit, customer and competitor analysis results will lead you to the next step in your SEO revival journey.
#3. Build a solid content strategy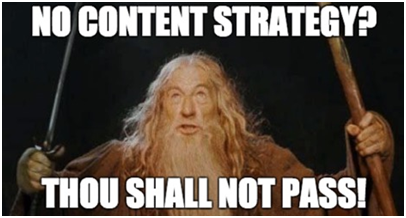 You already know one of the top reasons websites fail is because they lack good strategy. It's pretty obvious what you've got to do to side-step this landmine!
Once you've ideated your brand goals, formulate a strategy that will get you there.
If you're trying to revive your old site, doing it your own way (again) may not be advisable. Getting some expert insights could help you shape a stronger strategy.
Consider hiring a content marketing consultant to help get you back on track and up to date with the latest best practices in the industry.
Combine this with the option of outsourcing your writing to a professional content writer and you will save a lot of time that can be put into better use to amp up your business and website while the content continues to flow.
#4. Maintain and continuously optimize your site
Stay on top of your site.
You've already made the mistake once and that could be a major reason why your site became dead in the first place. Don't let history repeat itself.
Keep on publishing your content consistently, and in the background, make sure the show continues to run by maintaining every other aspect of your site.
Your visitors may be one-off or regular but if you wish to convert them into customers, you have to put in the work for it by regularly assessing and improving upon your site.
How can you do this?
Adopt link building strategies and other content distribution strategies that work for your site strategy to market both your existing and new content.
Identify ways to repurpose your old content to make it relevant to today's market standards.
Set a timeline for your technical, content and SEO audits.
Content never dies but the best way to keep alive and relevant is to keep building on it. The same goes for your website.
#5. Be patient for the results
Finally, you wait.
Your site will not revive overnight but that doesn't mean you stop trying. Remember, SEO tactics are a slow, but effective, burn.
Let Google do it's thing and in the meantime, you do you.
? Rejuvenate, Don't Just Revive
They say prevention is better than cure and truer words cannot be applied to the world of websites.
It's best to never let your site get to a stage where you have to wonder what you can do to bring it back to life, but even if it does, don't give up!
Going forward, approach your site with a kaizen-like state of mind and stay on top of the game through constant innovation and evaluation.
Focus on rejuvenation so your site never has to get a point of revival.
I can assure you, it won't be easy but with a few handy SEO tactics on your mind and virtual tools to assist you, you'll never fall out of the game again.
See also: