TL;DR: Here is a list of the best dual monitor computer desks that will be further reviewed here;
Overall best multi-monitor desk:

 HON BL Laminate Series Office Desk

L-shaped multi-monitor desk:

 FurniChoi L-Shaped Computer Desk

Gaming multi-monitor desk:

 Vitesse T-Shaped Gaming Desk

Multi-monitor desk with hutch:

 Tribesigns L-Shaped Desk with Hutch
Multi-monitor computer desks are vital for setting up home offices and gaming stations.
Don't agree with me? Exchange a few words with the hardcore gamers and those who work from home. You'll be convinced.
However, the real question is – how to choose the dual-monitor desk that best suits your needs?
Feel like heading out to choose on your own? Sure, but the tons of options available out there will eat up a big chunk of your time.
To make things less perplexing, here we have compiled a list of the best multi-monitor computer desks you can get your hands on.
Best Dual Monitor Computer Desks
1- HON BL Laminate Series Office Desk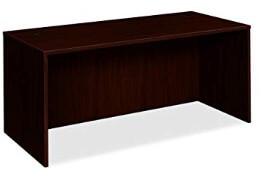 Who is this for?
This office desk is for people who'd love to invest in something exceptionally sturdy for their dual monitors. The ample surface space makes it the perfect choice for a home office set-up or even a gaming station.
Key Features:
Non-handed
66″ width x 30″ depth x 29″ height
Laminated
Weighs 95 lbs
Pros

Cons 

Sturdy
Well-placed cable management holes
Abrasion and stain resistant

Loose cable management caps
Towards the expensive side
Weak screws for assembly
Best Reasons to Buy
Reason #1 Exceptional Quality
This desk can withstand heavy-duty activities. Hence, you don't have to worry about overloading it. Moreover, it's resistant to scratches, spills, and stains. No wonder HON BL provides a five-year warranty for it, they're so confident nothing's going to happen to this bad boy.
Reason #2 Functional Design
Need more space? Create an L or U working station within minutes by adding other shells to this desk.
Reason #3 Clutter-Free Work-station 
Be ready for a clutter-free work station thanks to the well-placed cable management grommets. The power cords organized and prevent them from getting in your way.
2- FurniChoi L-Shaped Computer Desk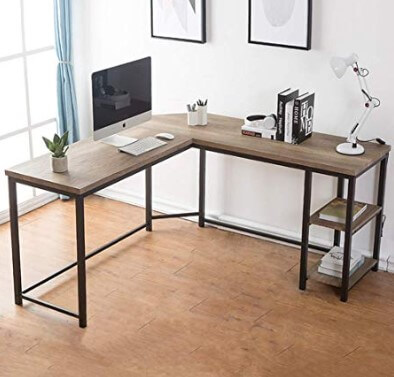 Who is this for?
This product fits the needs of those who're looking for a sturdy yet chic looking L-shaped desk. It'll make for the perfect home office work-station and easily bears the load of all that heavy machinery.
Key Features:
Made of PVC + MDF panels and steel frame
59.1″ width x 19.7″ depth x 30.3″ height
Weighs 74 lbs
Bears a maximum load of 360 lbs
Pros

Cons 

Large legroom
High load-bearing capacity
Durable and sturdy

No assembly instruction manual
Doesn't serve well as a gaming station
Tricky to assemble
Best Reasons to Buy
Reason #1 Sophisticated Design
This FurniChoi desk comes with a textured finish, black metal accent, and pedestal design. All these attributes supplement each other to provide an industrial level of elegance for the user.
Reason #2 Ample Storage Space
This desk accommodates two open shelves at its side, a perfect place to store your binders and books. They can even serve as a stage for your favorite plants.
Reason #3 Best Utilization of Space
The L-shaped desk houses a thick steel frame which enables a maximum load-bearing capacity of a whopping 360 lbs. Heavily load it with multiple monitors or office supplies, this companion of yours will never give up. Ever came across a better utilization of corner space? I guess no.
3- Vitesse T-Shaped Gaming Desk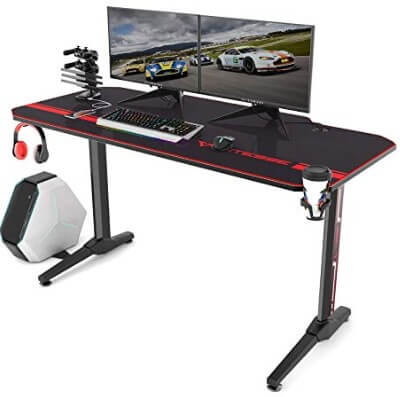 Who is this for?
The Vitesse desk is manufactured explicitly for serious gamers or e-sport fanatics. It functions as an organized gaming station to provide you with fluid gaming experience.
Key Features:
Fiberboard with PVC surface and steel tube frame
55.1″ width × 23.6″ depth ×28.5″ height
T-shaped
Weighs 60 lbs
Bears a maximum load of 260 lbs
Pros

Cons 

Aesthetically pleasing
Corrosion-resistant carbon fiber desktop
Double wire holes

Doesn't serve well as a home office work-station
Not suitable for 6ft plus height
Difficult to assemble
Best Reasons to Buy
Reason #1 Robust and Stable
The T-shaped design and four leveling feet keep the desk stable, while premium density fibreboard plus steel frame ensures durability. So, even if you tend to rage during games, this desk will stick by you like the best companion.
Reason #2 Additional Features
This table brings along a cup holder and a waterproof extra-large mouse pad. There's also a headphone hook and a gaming handle rack. The best gaming table or what?
Reason #3 Efficient Charging System
The gaming handle rack houses four USB ports for convenient charging. Charge up your phone or tablet without any cluttered cables attached to the wall.
4- Tribesigns L-Shaped Desk with Hutch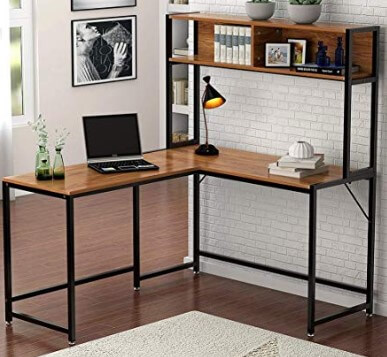 Who is this for?
This product is for those who prefer a desk with plenty of storage space and a contemporary outlook. Set it up as a home office work-station or a gaming station; it will be an ideal solution for that awkward corner space.
Key Features:
Made of E1 Class Particle Board + Thicker Steel
55.1″ width x 19.7″ depth x 29″ height
Weighs 70.5 lbs
Comes with a hutch
Pros

Cons 

Corrosion-resistant metal frame
Anti-slip foot pads prevent wiggling and wobbling
Serves well for both: office workspace and gaming station

Difficult to assemble
Limited color options
Improperly cut shelf holes
Best Reasons to Buy
Reason #1 Solid Construction
The steel frame construction is quite robust and features a mechanical design. These contribute to maximum stability of this desk, which comes in handy when used as a gaming station.
Reason #2 A Storage Hutch
This Tribesigns desk offers a storage hutch. Use it to store books, documents, binders, or as a stage for your favorite decor items. You can even place your gaming handle, headphones, and other gaming supplies there. The possibilities are endless.
Reason #3 Got a Small Apartment? No Problem
This desk takes the most advantage of a small corner area and maximizes workspace plus storage options. Place it in small apartments and dorm rooms where affording a large space for office or gaming activities isn't possible.
Winding Up on Best Multi-Monitor Computer Desks
It doesn't matter to us if you're a gamer, work from home, live in a dorm, or need something with ample storage. Our list of dual monitor desks includes an option for all.
So, what's the wait for? Read out the computer desk varieties we have for you, and purchase the one that best suits your needs.
See Also: