TL; DR: Here is a list of the best electric bike conversion kits that will be further reviewed here;
Do you need to buy a new e-bike when you can convert your vanilla bike into an e-bike?
It doesn't matter if you ride a hybrid bicycle, a mountain bike or a basic road bike. You can use an electric bike conversion kit to transform any bike into an electric bike.
The best part is that conversion kits don't dent your pocket. Moreover, you don't have to do a lot of changes to your existing bike either.
Simply replace the front or rear wheel, depending on your conversion kit, and you are good to go.
Now, let's take a look at the best six electric bike conversion kits out there in the market.
Best Electric Bike Conversion Kits 2020
1- EBIKELING Rear Wheel Conversion Kit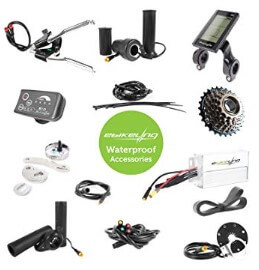 Who is this for?
This rear wheel conversion kit is ideal for anyone who doesn't have a budget constraint — want something durable and sturdy, yet chic and stylish? Look no more.
Key Features:
Aluminum double-walled rim
Pre-installed hub motor
48V 1500W motor power
Highest achievable speed is 48 mph
Pedal Assist Sensor (PAS)
| | |
| --- | --- |
| Pros | Cons  |
| Quite powerful | LCD needs to be ordered separately |
| Pretty responsive | Instructions are vague |
| Easy to install | Battery and tire is not included |
Best Reasons to Buy
Reason #1 Easy Peasy Installation
The kit comes with all the necessary components required for installations, and the motor is pre-installed. This makes the whole process a lot easier, comfortable, and convenient.
Reason #2 Compatible with LCD
An LCD with the kit will showcase the battery's percentage, speed, and distance.wattage. I will even display the PAS levels and error codes for convenient troubleshooting.
Reason #3 Money Back Guarantee
The controller and motor come with a 90 days money-back guarantee. Also, the rest of the components come with a 30 days money-back guarantee.
2- AW Front Wheel Conversion Kit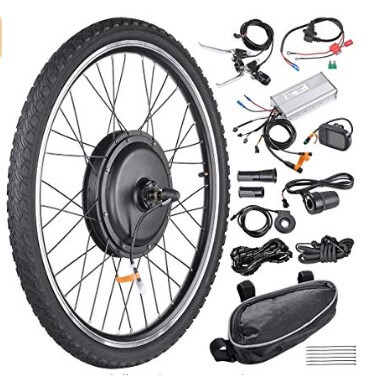 Who is this for?
People looking for something that will help them with day to day transit will love this conversion kit. The conversion kit is not meant for rough roads though!
Key Features:
Whole wheel with tire
48V 1000W power
245 mm motor diameter
80 percent motor efficiency
100 mm motor dropout spacing
Pedal Assistance System (PAS)
| | |
| --- | --- |
| Pros | Cons  |
| Durable and sturdy | Break handles are not the best |
| Keeps up with traffic | Weak traction |
| Has a good maximum speed | Disc brakes don't perform well at high speeds |
Best Reasons to Buy
Reason #1 A Dual Motor Controller
This conversion kit comes with a dual motor controller. Not only does it provide an extended life for the electric bike, but it also works under both hall effect and non-hall effect.
Reason #2 No Need to Spend Money on Accessories
The package, unlike some e-bike conversion kit, comes with all the required accessories. These include LCD and PAS.
Reason #3 Ideal for office and school transit
This electric bike conversion kit is perfect for going to the office and schools. It makes for a comfy commute with a decent maximum speed, excellent weight threshold, and durability.
3- Theebikemotor Rear Wheel Conversion Kit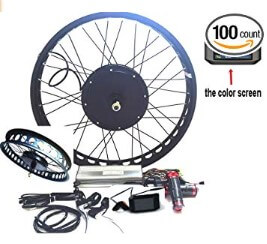 Who is this for?
This kit is specially designed for adrenaline junkies who are thrilled by high speeds. If you intend to use your e-bike for mountain biking or rough terrains, this bad boy is yours to get.
Key Features:
3000W hub motor
Top speed: 50 mph
Goes with 26inch wheel
24 MOZ Tube controller
LCD
Disc Brakes
| | |
| --- | --- |
| Pros | Cons  |
| Excellent maximum speed | Battery not included |
| High traction | Due to high speeds, brakes need to be changed frequently |
| Disc brakes are pretty efficient | Towards the expensive side |
Best Reasons to Buy
Reason #1 Long battery life
The kit comes with a 24 Moz controller, which protects the battery and ensures its long life expectancy.
Reason #2 Efficient Disc Brakes
Mostly, for high-speed bikes, disc brakes are not very efficient. However, in this case, the brakes are not only efficient but are way sturdier.
Reason #3 Lots of Gear options
The conversion kit allows you to choose between a single gear and 6 to 7 gears. Change the gears based on your needs and enjoy the ride!
4- JAXPETY Front Wheel Conversion Kit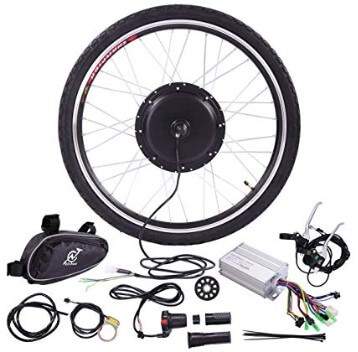 Who is this for?
This extremely reasonable e-bike conversion kit is ideal for beginners. Don't have a lot of budget? You can still add the thrill of an e-bike into your life.
Key Features:
Brushless gearless hub motor with 36V 500W power
23 mph maximum speed
Crank speed sensor for pedal assist
Rare-earth metal magnets used in the motor
Alloy rim and nylon tires
Intelligent motor controller
Aluminum alloy powerful controller for significant current supply
| | |
| --- | --- |
| Pros | Cons  |
| Comes with a whole wheel tire | Does not include any battery |
| Wire switch to determine what caused malfunctioning | The maximum speed is not very high |
| Durable and sturdy | Low motor power as compared to other conversion kits |
Best Reasons to Buy
Reason #1 All in One Kit
The kit comes with everything from a whole wheel tire to the intelligent motor controller to cable ties. Everything needed for a seamless conversion (except batteries) is found in the package.
Reason #2 Safe for Beginners
This kit does not feature a high maximum speed, which can be a turn off for many. On another note, this feature is actually beneficial for the newcomers. It helps them in gaining more control.
Reason #3 White Switch
During the installation, the user is required to install a white switch. This switch later helps you in determining why the bicycle isn't functioning correctly and saves you a lot of hassle.
5- 8fun Bafang Mid Drive Conversion Kit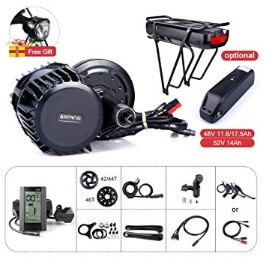 Who is this for?
Invest in this kit if you would like to go for a premium quality conversion kit for your outdoor biking adventures. The premium features and high quality makes it worth every penny.
Key Features:
48V 1000W motor
ROHS certification
80 percent motor efficiency
55 dB noise grade
| | |
| --- | --- |
| Pros | Cons  |
| Easy installation | Mounts on the frame and is not held in place with screws |
| Not noisy | LCD does not show proper wattage |
| Potent motor | Speedometer magnet screw does not tighten properly |
Best Reasons to Buy
Reason #1 Powerful Motor
The motor that comes with this kit is extremely robust. It can even help the passionate athletics to ride uphill on high gradients without any effort.
Reason #2 Easy Installation
Usually, premium conversion kits come with a very complicated installation process. On the other hand, this one allows for easy installation and maximized comfort.
Reason #3 Accessories are Abundant
It comes with a good number of accessories. These include speedometer, hydraulic brake, and mechanical brakes.
Winding Up on Best Electric Bike Conversion Kits 2020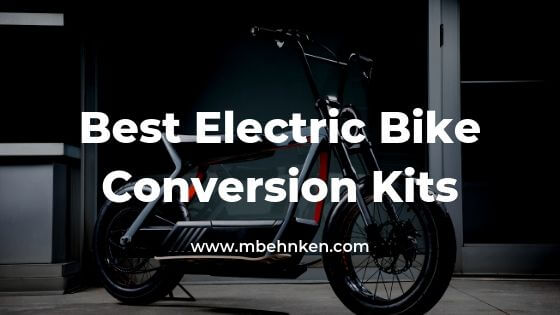 Electric bike conversion kits allow you to build an e-bike from scratch and achieve that perfection you've always wanted.
With elaborate instructions, assembling videos, and easy to install conversion kits, this process is not a hard nut to crack anymore.
So, get up, be productive, and start working on your e-bike conversion project!
See Also: