TL;DR: Here's a list of the best electric bikes that will be further discussed in this review;
Best overall electric bike: ANCHEER Electric Mountain Bike
Runners up electric bike: NAKTO 26 Inch Cargo Electric Bicycle
Best budget pick: SwagCycle EB5 Pro
Best rated: Aceshin Electric Mountain Bike
Premium pick: Kemanner 26 inch Electric Mountain Bike
Electric bikes offer a healthy and environmental-friendly means of commute. They do not emit toxic greenhouse gases or exhaust finite fossil fuels.
Their battery-powered pedal-assistance gives your pedaling a boost.
So, no more worrying when it comes to climbing a challenging terrain like hills or mountains.
How awesome is that? What's more is that they require no registration, license plate, or insurance.
With such incredible benefits, why doesn't each person on this planet owns an E-bike?
I would say the problem lies in its price. But what about the incredible savings on fuel and little maintenance cost?
To help you out in the process of buying an e-bike, given the versatility of designs available in the market, here we have for you top e-bikes with amazing features under $800.
Best Electric Bikes Under $800
1- ANCHEER Electric Mountain Bike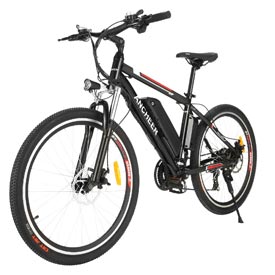 Who is this for?
Once more, ANCHEER has been successful in coming forward with one of the most efficient yet cost-effective E-bike models. This rugged looking E-bike is a perfect fit for all the sport fanatics out there.
Looking forward to test your leg muscles, but want to reach the destination on time? Get this bad boy and fulfill all your needs. Use the PAS mode or twist the throttle and be ready for an awesome boost.
Key Features:
Aluminium alloy frame, lightweight and sturdy
Two working models: E-biking and assisted bicycling.
Wheels integrated with double layer aluminium alloy
500W brushless gear motor
36/12AH high capacity Lithium Ion battery
Mileage of 35 miles
20 mph maximum speed
Smart meter to shift the paddle assist from low to medium to high.
Horn and bright LED headlamp for safe night riding
Front and rear disc brakes
https://www.amazon.com/dp/B07V4M9ZHJ/ref=dp_prsubs_1?th=1
| | |
| --- | --- |
| Pros | Cons |
| Strong 500W motor | 10 to 12 paddle revolutions required to engage motor in PAS mode |
| Large capacity of lithium-Ion battery | Not preassembled |
| Easy to operate the meter | Difficult to shift gears |
Best Reasons to Buy ANCHEER Electric Mountain Bike
Reason#1 Exceptional Climbing Ability
This bike has a lightweight yet durable aluminium alloy frame and comes with a Shimano 21 speed transmission system. These features contribute to its exceptional climbing ability.
Reason#2 Killer tires for Inclined Terrains
The 26-inch wheels integrated with double layer aluminium alloy further adds to its power of climbing inclined terrains.
Reason#3 High Motor and Battery Power
Packed with a 36V/12AH Lithium-Ion battery and a 500W high-speed brushless gear motor, this devil is a powerful machine. It can help you climb high gradient and defy gravity like no other.
2- SwagCycle EB-5 Pro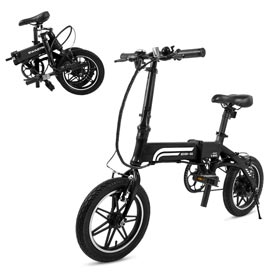 Who is this for?
Are you a travel enthusiast and always on the go? Do you like to take your E-bike along on trips? If yes, the EB-5 Pro is tailored to suit your needs.
It is a featherweight bike, with an efficient machinery. Carry it along with your luggage and it won't get our muscles sore.
Charge it up and be ready to have a friend to travel with!
Key Features:
250W hub motor
Lightweight aluminium alloy frame
Weight 37 lbs
36V/7.8AH Lithium-Ion battery
4 hours to charge completely
Mileage of 15.5 miles on full throttle
Maximum speed of 15.5 mph
Advanced Autoguard safety feature. It efficiently stops the motor as soon as you press the brakes. This safety feature comes into play even if you are holding the throttle.
https://www.amazon.com/SwagCycle-Lightweight-Aluminum-Folding-Electric
| | |
| --- | --- |
| Pros | Cons |
| Very portable and lightweight | Traditional rubber tires with a risk of going flat |
| Preassembled | Battery life wears out soon |
| Autoguard safety technology | Comparatively uncomfortable seat |
Best Reasons to Buy SwagCycle Folding E-Bike
Reason#1 Awesome Portability
EB-5 Pro can fold three times. This feature contributes to the bike's ideal portability. EB-5 Pro is the perfect choice if you plan on carrying along your E-bike inside your car or on subways.
With this bike, you don't have to worry about storage. It can fit quite well inside compact places such as closets.
Reason#2 Super Lightweight
It weighs just 37 lbs yet accommodates riders up to 264 lbs. Its frame is made of an ultra-lightweight aluminium which is sturdy and durable.
Hence, it's ideal for carrying around if you are always on travel. Living on the fifth floor and have a flight of stairs to climb every day? Do not worry; this bike has got your back.
Reason#3 Maintenance is a breeze
Apart from this, EB-5 Pro is one of the easiest to maintain E-bikes out there in the market.
It has an easily removable power line which can be disconnect any moment. Disconnect the power lines and take your bike for a tire change! Easy peasy.
3- Aceshin Electric Mountain Bike
Who is this for?
In love with off road adventures? Going for those uphill biking rides pumps up the adrenaline?
Look no further, this E-bike is all you need.
The slip resistant tires are rough and tough, for a safe ride in challenging areas. Put on a helmet, grab the Aceshin Electric Mountain Bike, and head off for that adventurous mountain trip.
Key Features:
250W brushless gear motor
36V/8AH Lithium-Ion battery
Three working models: E-bike, PAS, and standard bicycling
High-quality aluminium alloy frame. It is sturdy and resistant to breakage.
User-friendly design of its hand bar
Front and rear disc brakes
21-speed transmission system
Maximum mileage of 31 miles
Maximum speed of 18 mph
https://www.amazon.com/Aceshin-Electric-Mountain-Removable-Lithium-Ion
| | |
| --- | --- |
| Pros | Cons |
| Three working models | Not easily portable |
| Ergonomic design | Uncomfortable Seat |
| Capable of cruising up to 31 miles in PAS mode | Not comfortable for very tall individuals |
Best Reasons to Buy Aceshin Electric Mountain Bike
Reason#1 Three Working Models
You can use this as an E-bike, assisted bike, and a standard bicycle. It enables you to travel a range of 15.5 miles on a full-throttle using the E-bike mode purely.
Whereas if you go for the assisted cycling, you can cover a range of 31 miles. To extend the distance further, use it as a standard bicycle.
I would say be smart and switch between the three modes for a more comfortable ride.
Reason#2 Higher Friction for Wheels
The double-layer aluminium alloy wheels are slip and wear-resistant. This makes the bike suitable for trails, gravel and provides much more friction for good climbing ability.
Reason#3 Very User-Friendly Design
This bike is one of the most user-friendly designs available in the market for this price range. The characteristics topping the list are – ideal location of hand bar and easy adjustability of seat and RST.
4- NAKTO 26″  Cargo Electric Bicycle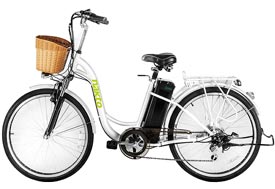 Who is this for?
You heard me right, it's ideal for adventurous women. The sleek feminine design and a powerful machinery, what else would a woman want?
Are you a female looking forward to break those stereotypes? Does the sound of adventure excite you? Search no more.
Whether its an adventure ride up a mountain, or a leisurely long ride. This bike is all you need!
Key Features:
250W high-speed brushless gear motor
Arrives 95% preassembled
High strength carbon steel frame
Two working modes: E-bike and assisted bicycling.
36V/10AH smart Lithium battery
Maximum mileage of 35 miles
Maximum speed of 25 mph
https://www.amazon.com/NAKTO-Electric-Brushless-Removable-Waterproof
| | |
| --- | --- |
| Pros | Cons |
| Direct to Customer Pricing | Headlight not bright enough for night riding |
| 95% preassembled | Very heavy |
| 1-year quality assurance warranty | Metal basket not of the same quality as promised |
Best Reasons to Buy NAKTO 26″  Cargo Electric Bicycle
Reason#1 High-End Shock Absorption
The premium shock absorption feature ensures a smooth ride. It comes in handy on uneven terrains like bumpy roads.
Reason#2 High-Quality Brakes
NAKTO didn't go for the traditional front and rear disc brakes in this Cargo E-bike.
Instead, it opted for front V brake and rear expansion brake for this specific E-bike. These high-quality brakes ensure the safety of the rider in a much more efficient manner.
Reason#3 Direct to Customer Pricing
Apart from other amazing features offered by NAKTO, their direct to customer pricing tops the list. It means their customers can purchase the E-bikes directly from the NAKTO factory.
As a result, the purchase cost is meager compared to the quality of the product offered.
5- Kemanner 26 inch Electric Mountain Bike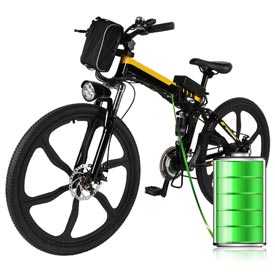 Who is this for?
Does the weather change its mood quite often in your area? Do sunny days suddenly transform into wet or sandy ones?
If yes, this E-bike should be your go to machine. It will get you through all kinds of weather without the risk of slipping and breaking a bone. So, no weather condition can stop you from cruising on your E-bike.
Key Features:
250W stable motor
36V/8AH high capacity lithium battery
Maximum mileage of 43 miles
Maximum speed of 21 mph
Ultra-light and sturdy aluminium frame
Aluminium alloy double-walled rims
https://www.amazon.com/Kemanner-Electric-Mountain-Yellow-Fold-Upgrade
| | |
| --- | --- |
| Pros | Cons |
| Lesser drag | No instructions are sent along with the bike |
| High-Quality Brakes | Difficult to assemble |
| Greater terrain adaptability | The battery is removable, but you need to purchase a charging adapter in which the battery cables can fit |
Best Reasons to Buy Kemanner 26 inch Electric Mountain Bike
Reason#1 Aluminium Alloy Double Walled Rims
This specific feature enables the e-bike to suffer less drag by reducing the air friction. Hence, ensuring a much faster ride.
Reason#2 Amazing Terrain Adaptability
This bike is famous for its more significant range variation and advanced terrain adaptability. Thanks to the Shimano 21 speed gear system incorporated into the bike.
Reason#3 High-Quality Mechanical Disc Brakes
The best feature of Kemanner Mountain Bike? High-quality mechanical disc brakes with all-weather stopping power.
They help you ride the bike safely on slippery roads like city streets during rain, or challenging uphill terrains.
Winding Up on Best Value Electric Bikes
When it comes to buying electric bikes, there should be no second thoughts. It's an investment you are making in your health and the environment.
No wonder they are not cheap, but the best ones you can get for under $800 are reviewed in this article.
They are comfortable, fast, and durable. Their tires can withstand rough roads, slippery streets, and inclined terrains.
You can avoid traffic and slash the time required to reach work by riding an E-bike on traffic-free bicycle paths. Even if you want to exercise, use the E-bike as a standard bicycle.
Still unsure about getting an E-bike? Think about the incredible savings on fuel that comes with it. All you need is electricity to charge it.
What are you waiting for? Get up and get one. It's a life-changer!