TL;DR: Here is a list of the best electric unicycles that will be further reviewed here;
In this age of eco-friendly modes of transport, electric unicycles are something people are developing a fondness for.
I know what you're thinking: why not e-bikes, e-scooters, hoverboards, or e-skateboards? Well, because the smaller and lighter the vehicle, the better.
Thinking about getting a unicycle already? Beware, it'll be a never-ending process given the tons of options available. Don't worry, though, I am here to help you out.
Here's a list of the best electric unicycles…
Best Electric Unicycles 2019
1- InMotion V5F Solowheel Glide 2 Unicycle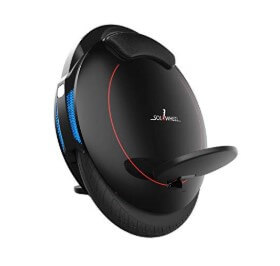 Who is this for?
The InMoton V5F unicycle is an apt choice for people who want to add innovation to their daily city commuting. It can handle slight inclines as well, so don't worry if your city has a few slopes. Plus, the fact that it's super easy to learn and ride makes it ideal for beginners.
Key Features:
Maximum slope of 18°
Range: 25 miles per charge
Top Speed: 15.6 mph
Motor Power: 550W
Battery: 4.4AH 320WH
Weight Limit: 260 lbs max structural load
Pros

Cons 

Affordable
Safe for beginners
Compatible with InMotion app for android and iOS

Not suitable for heavy rain
Not ideal for off-roading or highly inclined terrains
Payload greater than 180 lbs affects its performance
Best Reasons to Buy
Reason #1 Incredible Safety Measures
One of the highlights of Solowheel Glide 2 is its innovative handle button/motor kill button. It is present beneath the handle and stops tire rotations when you lift the wheel.
Apart from ensuring safety, this feature also adds to the convenience. For example, when there's a need to lift the unicycle over a barrier without powering it off, this motor kill button is the best and only approach.
Reason #2 Easily Conveyable
In addition to having a sleek body, this unicycle is comparatively lightweight as well. It houses a Magnesium alloy motor which is 1 kg lighter than traditional motors.
It even comes with the provision of rolling next to you like luggage. Buy a detachable handle, attach it to the unicycle, and you're good to go.
Reason #3 High-Quality Specs for Affordable Price
The motor and battery incorporated in this unicycle are of top-notch quality. Given the price of Solowheel Glide 2, a range of  25 miles and a top speed of 15.6 mph is commendable. Plus, both the battery and motor have a long lifespan and will last you for a long time.
2- Xyout Intelligent self-Balancing Electric Unicycle
Who is this for?
The Xyout unicycle is for people who wouldn't prefer riding one in a standing position. It comes with a seat and has an excellent climbing ability. Yes, you've finally found a companion for those up-hill rides and off-roading adventures.
Key Features:
Maximum slope of 25°
Range: 18.6 miles per charge
Top Speed: 12 mph
Motor Power: 500W
Battery: 60V, 5A
Weight Limit: 310 lbs
Pros

Cons 

Seat and handlebar height is adjustable
Bluetooth audio
Smart protection against overcharge, over-discharge, short circuit, and overcurrent.

Low maximum speed
Expensive
Heavy
Best Reasons to Buy
Reason #1 It's Self-Balancing
This unicycle harbors a 64-bit intelligent control chip and processes 400 intelligent operations per second. This cutting-edge technology enables it to self-balance without any malfunctioning.
Reason #2 Exceptional Climbing Power
This Xyout unicycle has a 500W pure copper Intelligent motor. Based on german military technology, it has excellent quality and compliments the impressive battery having a five-year shelf life.
These features, combined with a great climbing angle of 25°, make this unicycle an ideal choice for uphill riding.
Reason #3 Got a Heavy Stature? No Worries
The unicycle has a good enough load-bearing capacity, i.e., 310 lbs. While most unicycles are meant for people of smaller stature, this one transcends weight limitations.
3- InMotion V10 Electric Unicycle
Who is this for?
The V10 unicycle is for people who want to set their hands on something that'll carry them through the roughest roads and steepest inclines. If you're ready to pay a high price for it, be prepared to enjoy zero terrain limitations, insane speed boost, and easy portability.
Key Features:
Range: 43 miles per charge
Top Speed: 25 mph
Motor Power: 2000W
Battery: 650Wh
Weight Limit: 260 lbs
Pros

Cons 

Built-in safety features
IP55 weatherproof rating (useable in wet weather)
Bright headlights, rear lights, and sidelights for night visibility

Reduced performance at heavier load
Comparatively expensive
Requires practice to ride
Best Reasons to Buy
Reason #1 Built-In Folding Handle
The retractable handle allows users to roll the unicycle like luggage. Carry your wheel along in total comfort! Moreover, the tall and sleek design further adds to portability, making the whole experience even better.
Reason #2 Compatible with InMotion App
Use the InMotion App to make sure your V10 unicycle is functioning at its full potential. The app facilitates the user in running diagnostics, checking live statistics, examining the efficiency, customizing sidelights, and calibrating plus updating the firmware.
Reason #3 Customize the Lighting!
Customize the unicycle according to your preferences and rock your ride's outlook. Adjust the RGB sidelights by altering colors, patterns, and animations using the InMotion App.
4- Hoverclub Solo Electric Unicycle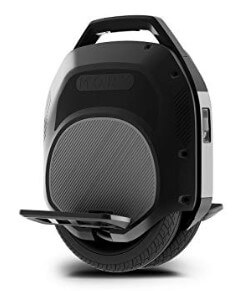 Who is this for?
This commuting unicycle is meant for users who intend to ride it on flat pavements or slight inclines. The compact structure of Hoverclub Solo makes it a fine choice for a ride to work. Store it in a small place securely till you need it again to head back home!
Key Features:
Maximum slope of 15°
Range: 12.5 miles per charge
Top Speed: 7.5 mph
Motor Power: 500W
Weight Limit: 220 lbs max load
Pros

Cons 

Very budget-friendly
Good shock absorption
Can be stored in compact places

Not suitable for off-roading
Can't handle very steep terrains
Lower top speed
Best Reasons to Buy
Reason #1 Maximized Comfort in a Budget
This unicycle is equipped with 14-inch dual air tires. These not only provide optimal shock absorption but also aid in slip-resistance. Moreover, the unicycle features self-balancing technology. All these factors add up to ensure a safe, smooth, and steady ride.
Reason #2 Super Easy to Carry
This unicycle weight just 23.9 lbs and houses a retractable handle. Pop the handle up and roll your wheel at your side! Easy Peasy.
Reason #3 Great Price!
The highlight of the Hoverclub Solo unicycle is its extremely affordable price. A 500W motor and high-capacity battery at this price is unmatched in the market. Although not a feast to ride, the specs it offers have been tailored to fit the needs of a daily commuter perfectly.
Winding Up on Best Electric Unicycles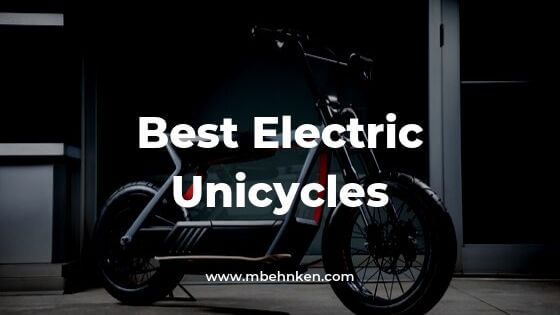 You don't have to be a seasoned professional to ride an electric unicycle, but a little bit of practice is essential.
Electric unicycles offer an increased range and a greater control. A little practice for these attributes won't hurt, would it?
So, what are you holding up for? Abide by the guidelines in this article and select the unicycle best suited to your needs.
See Also: