TL;Dr: Does the Swagtron Swagcycle EB-5 live up to the expectations from a folding electric bike?
Yes! Swagtron is the best-balanced model electric bike. It has a collection of elements you can look for in an ideal bit of short-range transport. 
Comfort, range, compatibility, power, and size all are the elements that need to be balanced with the cost. This bike is a part of low to mid-price range yet with exceptional features. 
Finding a commuting bike is simple, but if you're searching for a compact and powerful e-bike packed with excellent features, you need to understand your options.
Having an excellent bicycle is very important if you're looking to use daily to go to school or work.
If you are going to commute daily, you will need a perfect bike that provides excellent features that make the experience more pleasurable.
If you choose the wrong bicycle, it leads to all sorts of trouble. It is essential to look at all the options and choose a bike based on your requirements and preferences.
Here we have one bike stands out as genuinely portable, durable with excellent features and that's the Swagtron SwagCycle e-bike. It's among the best folding e-bikes you can find. 
This is a zero-emission, pedal-free personal transportation device that feels like a bicycle but rides like a moped.
Swagtron Swagcycle: Highlight Features chart
| | |
| --- | --- |
| Parameter | Details |
| Motor | 250 watts Hub drive motor |
| Range without pedaling | 15.5 miles |
| Speed | 18 mph |
| Digital Display | None |
| Battery | 36v/4.4Ah battery |
| Breaks | V-brakes |
| Wheels | 14 inches rear and front |
| Weight capacity | It can carry up to 264 lbs. |
| Frame | Aluminum Alloy |
| Fork | No Suspension |
Swagtron Cycle Overview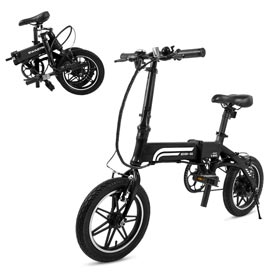 This bike is very comfortable to ride, claim the users.
The bike seat is adjustable for any sized person. The handlebar can be adjusted in a couple of ways up and down as well as 360-degree in a twist.
This 360-degree adjustment is beneficial; the handles have a unique shape that allows wrists to rest while riding.
This bike is small enough in size but powerful enough to get you from place to place with speed. Using this bike is not only comfortable but also convenient and enjoyable.
The bike engages its motor, but the sound quite low. This bike uses a 250-watt motor that can drive the bike with a speed of 18 miles per hour.
Best Reasons to Buy the Swagtron Swagcycle
Reason 1: Extremely easy to maneuver
The handlebars have a few different controls with a pair of brakes – which work effectively both front and rare, regardless of the speed. 
The handlebar controls include an on-off button with sizable which is RED, and impossible to skip. This button turns ON the electric part of the bike, to run the bike on the motor.
This control is effortless to use, say the experts and there is no necessity to put in a great effort. The other way to drive this bike is to pedal (like a regular bicycle.)
Reason 2: Compatibility
No need to look for a parking place because you can fold it up and take it with you. It can be folded up and made to fit in a backpack.
Fully folded: This bike can be folded to a height of 26 inches and a width of 23.60 inches.
You can make a better adjustment to the seat as well – but the result is straightforward to carry and convenient for packing.
Reason 3: Power and Performance
This bike is made conveniently with a US-based wall charger/power converter which is placed at the bottom of the body of the bike.
There's a small sticker on the side of the bike pointing towards a small port on the lower side of the bike where the plug fits.
There is a plug cover to cover up the port when not in use, made of rubber which is water-resistant too. The charging process does not take longer than 5 hours to charge the bike to be a fully topped-off battery (36V Lithium-Ion battery)
Once fully charged, SWAGTRON's bike is observed to last "up to 15.5 miles or farther." 
Switching between pedaling with pedal-assistance and using the full-throttle power assist, you can get your distance up higher.
Reason 4: Bluetooth pairing.
This bike does not come with a heads up display, but with Bluetooth connectivity which lets you control all settings and displays vital information to you via their application.
You can track your distance moved, distance remaining, adjust gear settings, and do much more with the app.
Does the size justify its purpose?
This is a compact bike, but it's not suggested for little kids. It's more like a BMX-style moped, but it's certainly not made to do any super fancy riding tricks like jumps, drifts and other tricks.
Fully folded, this bike can be folded to a height of 26 inches and a width of 23.60 inches. I can't stress enough on the fact that this bike folds into really small dimensions. 
When not folded, the bike is around 34.9 x 24.5 x 14.5 inches and weighs around 37 pounds. 37 pounds is very lightweight for a locomotive which practically rides with little effort. 
The handlebar and seat height can adjust as per your convenience. It's a flexible range. Swagtron suggests the strength of this bike that this can handle riders up to 264 pounds.
Cons of the Swagcycle
Safety
One feature which is missing from this bike and is usually seen in higher-end electric bikes is the auto power cut-off switch when breaking. This feature cuts all the power from the motor to the wheels when applying brakes.
Don't allow any younger members of your family (under the age of 18) on this bike without proper gear. This vehicle can drive at 15 miles per hour, which is pretty fast enough to lose control and fly into nearby traffic.
Warranty
A one-year door-to-door warranty backs the Swagtron Swag cycle Folding Electric Bike, which is industry standard. 
There is no availability of extended warranty or protection plans. The components on this cycle do not run cheap, any damage in the future is going to set you back significantly. 
Is Swagtron Swagcycle worth it?
The Swagtron Swagcycle is the official electric bike of the Chicago Cubs and Wrigley Field. This is a massive win for the manufacturers.
This bike is comfortable and stylish. This could be subjective, but for a foldable cycle, it has an impeccable design.
After folding, the size of the object is brought down significantly, and also the overall shape allows you to carry your cycle with ease.
All-in-all, this bike is an excellent value for money. The performance and features justify the cost. This bike gives stiff competition to its rivals.
I hope this article gives you a better insight into what to expect from this cycle and helps you make the purchase.
If you like this article, be sure to check out my other reviews of different electric bikes.
See also: