TL;DR  Here are the best outdoor projectors recommendations that I will be reviewing in this article:
Are you a movie fan? Or do you love to watch movies in HD and on the big screen? If yes, then the perfect & cost-effective solution for this question is "Projector," Because a 40-inch TV costs more than a projector that can cover 300-inch screens.
There are many projectors in the market, claiming that it is capable of a lot of digital magic. This reality can be misleading for first-time buyers. So, I made a list of the five best outdoor projectors for you & I will review all these five projectors with all of its features in this article.
What should you look before buying a Projector?
1. Picture / Video Quality
You should check out how these outdoor projectors performed for their price. The best ones provide you best high resolution, high brightness, and respectable contrast within a minimum budget.
Some projectors have 3D capability, while many of them allow you to connect your smartphones or SD cards to them. All of these projectors have HDMI ports of course for screening videos in the best quality.
2. Worth the Money spent
Outdoor projectors are, no doubt expensive. So I looked for maximum features and picture clarity within a moderate price. Calculation of cost depends upon the resolution of the projector. Other factors like connectivity, built-in speakers, wireless capabilities are also taken into account while deciding the price.
3. Other Features
The best outdoor projectors have to be covered by picture alteration option, preset viewing options, and all-important ports like HDMI, external speakers, etc. You should also look for a built-in DVD player, integrated speakers, lens adjustments, etc.
Best Outdoor Projectors: Review
Here are my four best outdoor projector recommendations; I have covered all design features, pros & cons, and performance parameters for reviewing these products.
1. Optoma HD142X 1080p 3D DLP Home Theater Projector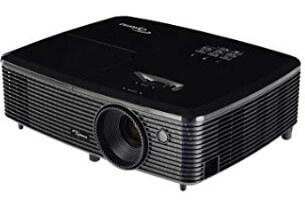 Best Reasons to buy Optoma HD142X
Reason 1: Design & Features
It comes with a glossy black package measuring 4 "X 8.8" X 12.4 ". It weighs 5.5 pounds, so you can easily mount from the roof. It has a backlit remote control using which it can be
controlled. This outdoor projector boasts a native resolution of 1920×1080. Dynamic black capability increases in contrast by lamp dimming. It has an average lamp life of 6000 hours. Optoma HD142X also supports HDMI 1.4a & Blu-ray 3D capabilities.
Reason 2: Performance
Despite its economic value, the Optoma HD142X 1080p outdoor projector does not disappoint you. Once we set it, the pictures were above average in their quality. Vivid Mode spices the video when you hit daylight on the screen. The 3D projection is crisp & clean.
PROS

CONS

1080p full HD resolution
Affordably Priced
2 HDMI inputs, MHL capable
Vesa 3D support
Clean & Bright Picture

Rainbow effect
You can hear the fan on bright Mode
2. BenQ DLP HD 1080p Projector (W1080)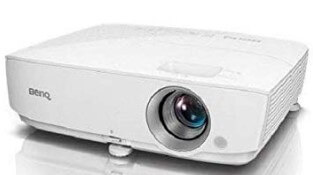 Best Reasons to buy BenQ DLP HD
Reason 1: Design & Features
BenQ W1080 1080p outdoor projector is designed to suit office decoration. White surfaces are there to the edge. It is tiny and portable with 12.3 "X9.6″ X4.1". Manual zoom and focus hide under an insubstantial cover.
A sensible alternative that this outdoor projector offers is the vertical lens shift. Most projectors in this category do not have this feature.
3D Blu-ray videos are supported. A fair amount of lamp light leaks through the grills, which are noticeable on the screen when there is ambient light.
Reason 2: Best Performance
Pop up SmartEco mode for the best service. In this Mode, the shadow detail was much better with a natural color tone. The picture quality was not to blame.
You can use this projector for gaming on a big screen. The movement is smooth, and there is no justice or blur. Your audio and visuals will keep you riveted and victorious.
PROS

CONS

Excellent image quality
Natural color & skin tone
Exceptional contrast
10W Speaker
Vertical Lens shift screw

Grill leaks lamp light
Manual focus is hard to operate
3. ViewSonic PJD5555W WXGA DLP Projector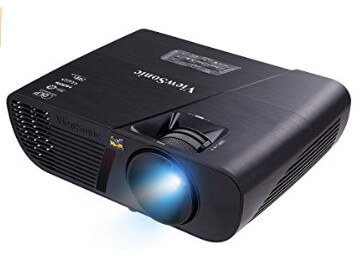 Best Reasons to buy ViewSonic DLP Projector
Reason 1: Best Design & Features
It is a highly portable outdoor projector at just 4.6 pounds. It measures 12.44 "X9" X4 "in all directions. In addition to its svelte design, a cable management hood has been provided that can hide unsightly wire nests behind the projector.
HDMI ports allow it to play 3D movies from a 3D Blu-ray player and PC. It has preset viewing settings and a dynamic echo mode that can extend lamp life to 10,000 hours.
Reason 2: Amazing Performance
It performed well in different settings with ambient light coming on. The pictures were discreet, and the contrast ratio was enough for comfortable viewing. To view in the 3D Mode, you must obtain an active DLP-link.
There was some iridescent effect on this outdoor projector. For DLP projectors, the video is relatively less bothered by the colors of the rainbow. It has a 2W internal speaker to which you can connect external speakers.
PROS

CONS

HDMI, VGA, RCA, 3.5mm many connection options
3300-lumen brightness
2W speaker integrated
Comes with a cable management hood

The contrast could be better for long videos
4. Epson EH-TW650 Home Projector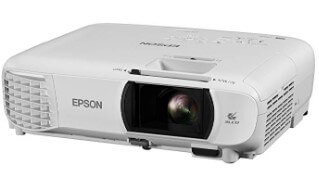 Best Reasons to buy Epson EH-TW650 Home Projector
Reason 1: Design & Features
Epson EH-TW650 Outdoor Projector Look Projector Future Look. With the lens in the center, the grilles are away from the front, so any light leakage will not affect the screen.
This outdoor projector comes with two pair 3D RF glasses that connect to the projector wirelessly. If you don't have external speakers, there's no need to worry about the Epson TW650 covering it with a 10W onboard speaker.
The included USB port is for firmware updates only. It plays Full HD 108P 3D visuals through HDMI port. It does not have a lens shift but does allow for horizontal keystones.
Reason 2: High Performance
The light output was sufficient to keep images alive in a room without a curtain. Apart from skin tone, this external projector naturally deals with all other colors.
I was satisfied with its 1080p movie performance. There was minimal crosstalk in 3D viewing.
PROS

CONS

Perfect Blu-ray & 3D replay
Works well in bright light
High throw ratio
Comes with two pairs of 3D glasses
Best Outdoor Projectors: Final Thoughts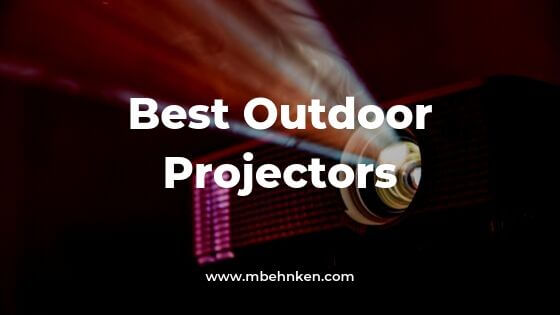 You can find many outdoor projectors in the market. But these four are best in the moderate-priced Budget. Now it's up to you what are you looking for in a projector and choice accordingly.
All are best in different aspects; you can choose any of them according to your needs.