TL;DR: Here is a list of the best electric bikes under $1000 that will be further reviewed here;
Electric bikes are an effective way to reduce one's carbon footprint on the environment. Simultaneously, they also help you take a step closer towards improved physical fitness.
While e-bikes have many advantages over automobiles, not everyone has the budget for them.
Plus, it's quite perplexing to choose the one that best suits your lifestyle out of thousands of options available on the market.
To cater to both of these issues, we have carefully profiled the best electric bikes under $1000…
Best Electric Bikes Under $1000
1- ECOTRIC Fat Tire Electric Bike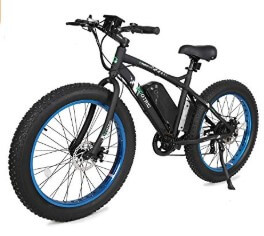 Who is this for?
This electric bike is for people who like to have no limit to the type of terrain they can ride their e-bike on. Be it snow, sand, mud, dirt trails, or regular roads; this E-bike is your best companion in all conditions.
Key Features:
Maximum speed: 20 mph
Mileage of 19-33  miles
Shimano 7 gears shifting system
500W rear hub motor
36V/12AH lithium cell battery
Load capacity: 260 lbs
Pros

Cons 

Comes with a smart lithium battery charger
LCD display panel
Smooth and quiet ride

Height of handlebars is not adjustable
Manual is not visually detailed
Absence of efficient customer service
Best Reasons to Buy
Reason #1 Anti-Skidding Tires
The tires of this electric bike are 4″ thick. These fat tires are wear-proof and feature the capacity to adapt to all kinds of terrains with fantastic traction.
Reason #2 Two Working Modes
Depending on your mood, you can either choose PAS mode or throttle only mode. In the mood for a boost? The full-throttle mode will last you a 19-mile range on a single charge.
The mileage estimates depend on PAS level selected, rider's weight, towing weight, wind resistance, and terrain.
Reason #3 Mechanical Disc Brakes
This electric bike features Tektro Novella front and rear mechanical disc brakes. These high-quality brakes provide fail-safe security for your riding adventures.
2- Kepteen 26 inch Electric Mountain Bike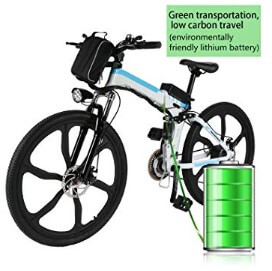 Who is this for?
This electric bike adapts well to terrain variation. You can use it for your daily commute or ride it up for hill climbing adventures. It is well equipped to serve your needs on both challenging and regular terrains.
Key Features:
250W stable motor
21-speed transmission system
Maximum speed: 22 mph
Load capacity: 264 lbs
Mileage of 28-37 miles
Pros

Cons 

Sturdy aluminium frame
Easy to assemble
Efficient all-weather braking system

LED headlamp stops working with time
Warranty doesn't cover frame
Not suitable for kids
Best Reasons to Buy
Reason #1 A Stable Ride
This bike features a sturdy yet lightweight aluminium frame. Hence, it offers a stable ride even when heavily loaded. Furthermore, this Kepteen e-bike has an upgraded foldable integral wheel. As compared to the traditional spoke wheel, this design offers greater stability.
Reason #2 Three Working Modes
In the mood to break a sweat? Switch to bicycle mode only and head out for an excellent workout. Climbing uphill and need some assistance? Select the pedal assistance mode and make things easy for yourself
Don't feel like exercising at all? Go for the full-throttle mode and feel that insane speed boost.
Reason #3 One Year Warranty
Kepteen offers a 1-year limited warranty for this bike which covers motor, batteries, and other parts except for the frame. As soon as you face a problem, the customer service will have it solved for you within 24 hours.
3- ANCHEER Folding Electric Mountain Bike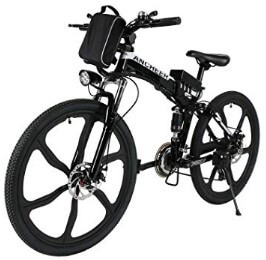 Who is this for?
This electric bike has enough range capacity for a trip with friends travel and back or a one-day adventure. Although not suitable for aggressive outdoor adventures, it will carry you smoothly on slightly inclined terrains and rough surfaces.
Key Features:
250W stable motor
Mileage of 15-30 miles
Maximum speed: 15mph
Load capacity: 330 lbs
Shimano 21 speed shifter
36V 8Ah lithium-ion battery
Pros

Cons 

The bike comes 85% pre-assembled
Three working modes
One year warranty for motor and battery

Battery can't be charged away from the bike
Seat cover not included
Warranty doesn't cover bike's frame
Best Reasons to Buy
Reason #1 Well Fortified Wheels
The bike wheels are reinforced with 26-inch Magnesium alloy. These slip-resistant tires eliminate the chances of accidents and add to the bike's hill-climbing capacity. Be it trails, gravel, city streets, or back roads, ride your e-bike without a worry.
Reason #2 Good Climbing Ability
This bike includes a Shimano 21 speed professional transmission system. This, in combination with ultra-strong wheels, contribute to the bike's exceptional climbing ability. Moreover, the double shock absorption and disc brake design ensure a smooth and safe ride.
Reason #3 Portable
This ANCHEER bike has a frame made of robust yet lightweight aluminium. What's more, is that it can be folded. Hence, it's very convenient to throw it in the trunk of your car and carry it around.
4- Rattan 26 inch Electric Mountain Bike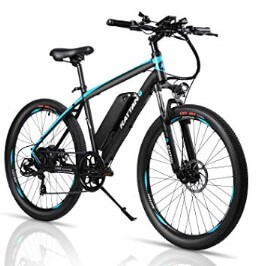 Who is this for?
This bike is for those who need a long-distance commuter electric bike, yet don't want to spend more than a $1000 for it. If you live in a city with flat roads and slightly inclined terrains, this e-bike will serve you well.
Key Features:
350W high-speed brushless gear motor
36V 10.4AH lithium-ion battery
Maximum speed: 19.8 mph
Mileage of 40-80 miles
Shimano 7-Speed classic transmission system
Pros

Cons 

Excellent mileage
High-quality electric parts
Removable battery

Very heavy
Not suitable for off-roading adventures
Assembly instructions are unclear
Best Reasons to Buy
Reason #1 Best Companion in Long Distance Trips
A long-range estimate is one of the strongest suits of Rattan 26-inch electric bike. The 36V 10.4AHlithium-ion battery makes this possible, given its superior quality (LG brand) and high rated capacity.
Depending on the level of pedal assistance selected, a range of 50-80 miles can be achieved. However, if you feel like using the E-bike mode entirely, a mileage of 38-50 miles can still be achieved.
Reason #2 I-PAS Technology
Unlike other e-bikes, the I-PAS technology in this one allows the user to select five different levels of pedal assistance. This feature also helps in 30% extra energy conservation as compared to traditional e-bikes.
In a nutshell, one charge will last you more miles than any other e-bike out there in the same price range.
Reason #3 Removable Battery
The lithium-ion battery is not only removable but also secured by a lock. The removable feature adds a lot more convenience when it comes to charging. While the bike is parked in your garage, take the battery inside the house for an easy charge.
Winding Up on Best Electric Bikes Under $1000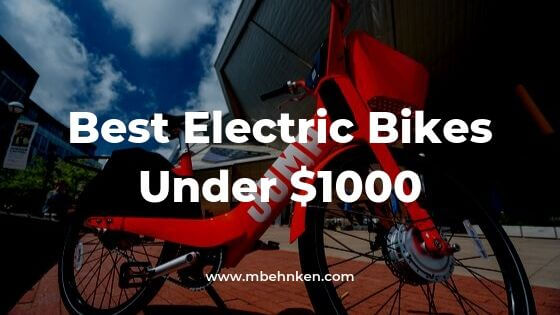 There is a wide range of electric bikes on the market. The name of the game is to select the one which is fit as a fiddle for you.
So, act upon the guidelines in this article and select the electric bike that best suits your needs. Trust me; the process will be a breeze.
See Also: