TL;DR: Here's a list of the best electric scooters for kids that will be further discussed in this review;
Every kid's first choice: Swagtron Swagger
Best choice for beginners: Razor Power Core E90
The girl's choice: Razor Pocket Mod Miniature Euro
As a growing kid, parents start to buy bicycles, toy cars, train sets, and many more.
From the first toy car to the last bicycle, the will to "own the road" and always be on a cruise ride is developed in mind.
When kids outgrow these toys, parents think until the kid clocks eighteen before the kid can pick up the next wheel.
But something came up; "the electric scooter."
Now, that will to always be on a cruise ride and be your driver ignites and nearly every kid wants an electric scooter.
With these fantastic electric scooters, your kid can go to-and-fro between school and home alone. Electric scooters for teenagers are also a great way for your child to stay fit.
"I'm convinced now but which model suits my boy or girl?"
Don't panic as we'll be looking into the best among the rest.
So, let's jump right in!
Best Electric Scooters for Kids Revised
Right from the very start, it's either a kid's dad or mom drops him or her off at school or they go by bus.
Dropping the kids off means waking up earlier than desired.
Following the bus means paying additional fees to the school.
"Why is buying the electric scooter for your kid important?" You tend to avoid the two options of dropping them off or paying extra to take the school bus.
You're happy, and the kids are delighted!
1.     Swagtron Swagger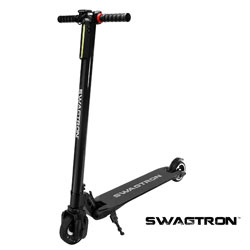 Who is this for?
The Swagtron Swagger is perfect for all age bracket. It doesn't matter whether the kid in college or elementary school. The name says it all; it's a scooter that gives every kid that "swagger." For the gents and ladies of every age bracket (tall enough to ride it), the Swagtron Swagger is one quick way to leave home for school in no time.
Key Features:
250-watt hub motor
15mph clocking speed
Up to 15-mile range drive
Electronic front brake and friction foot rear brake
Five transmission gears
Maximum body weight of 250 lbs
29.4V/5.28Ah lithium-ion battery pack
Best reasons to buy the Swagtron Swagger?
Reason 1: Vehicle-like transmission system
This electric scooter comes with a transmission system of 5 gears, just like our cars, trucks, etc. Gear 1 attains a speed of 5mph, gear 2 revs it up to 7.5mph, while gear 3 speeds up the scooter to 10mph. Gear 4 and 5 take your speed to 12.5mph and 15mph, respectively. Do you know what this means? The kids are already learning how to switch between gears. Makes it more comfortable when they own a car.
Reason 2: Featherweight
The Swagtron Swagger weighs just 17.26 lbs as compared to other electric scooters. Most scooter with a similar feature often weighs between 20 lbs to 33 lbs. This statistic shows it is indeed lightweight.
Reason 3: Easy storage
The Swagtron Swagger could easily be stored in a confined space in your garage. It is due to its ability to fold down in a few simple clicks. It also comes in handy when transporting the scooter.
PROS

CONS

Easy setup and usage
Lightweight
Fast charge

Average battery life
Perfect for just smooth surfaces
Low ground clearance
2.     Razor Power Core E90
Who is this for?
Are you getting close to age eight or you're above the age? If yes, then the Razor Power Core E90 is your beginner's guide to becoming a top rider. For every individual looking to pick up his or her first-ever scooter, this is the best suggestion for you. With its features, you're on this right path.
Key Features:
A maximum speed of up to 10mph
80 minutes of ceaseless usage
120 lbs max weight carriable
Urethane front tire and TPU back tire
12V lead-acid rechargeable battery system
90-watt hub motor
Best reasons to buy the Razor Power Core E90?
Reason 1: Less power; more minutes
No other package can be better than what this scooter brings. Eighty endless minutes run on the road with no hassle is what you settle for when you purchase this electric scooter. With just a 12V packed battery, this scooter serves you an hour twenty minutes on the road.
Reason 2: High torque
When your scooter comes with a 90-watt hub motor, one thing is sure; high torque! The hub motor revs up the scooter to produce a fantastic 10mph. For a starter, riding a scooter with such feature will make you feel like a pro in no time.
Reason 3: Zero maintenance
From the day you purchase most vehicles, you start saving up for their maintenance, but not with this scooter! The Razor Power Core E90 is maintenance-free. No need to save up for alignments, tensioning of chains, etc. Buy one and have unlimited fun!
PROS

CONS

Maintenance-free
Long-life on the road
A 90-watt powerful hub motor

Noisy motor
Not foldable
Long charge time (12 hours)
3.     Razor Pocket Mod Miniature Euro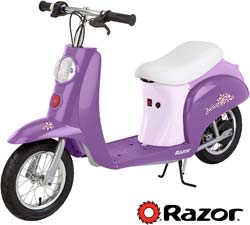 Who is this for?
The Razor Pocket Mod Miniature Euro electric scooter is built and designed for everyone, especially your young girl. With its vintage look and high performance, every girl coping one of these scooters is ready to be the center of attention. Right from home till she gets to the mall or school, this electric scooter is guaranteed to turn heads.
Key Features:
Up to 40 minutes uninterrupted use
Up to 15mph top speed
Ultra-wide 12-inch air-filled tube tires
Under-seat storage
Two 12V lead-acid batteries
Best reasons to buy the Razor Pocket Mod Miniature Euro?
Reason 1: Great ground grip
Its wide 12-inch tire ensures more grasp of the scooter to the ground. Stones and rocks don't stand a chance.
Reason 2: Long usage time
When you purchase this scooter, you're sure to get 40 full minutes when in use on the road.
Reason 3: Better storage capacity
This electric scooter comes with under-seat storage where books and other items can be securely kept. No air is going to get those books away from your sight!
PROS

CONS

Easy to assemble
Safe with a strong grip
12-inch tires for smoother ride

Heavy
Requires more storage space
Poor battery
Final thoughts on electric scooters for kids
When it comes to owning a scooter, there no age limit, and so every kid needs one. There is a scooter for every gender.
These electric scooters are built to certify comfort for the kids. With their easy controls, unlike other complex models, every kid is in safe hands.
Still wondering if it's a great idea to get your kid one? Think about how you get to save time from dropping your kid off to school and bringing him or her back home.
It's a "win-win" for you and your kid. So, what are you waiting for? Buy one now!