TL;DR: Here is a list of the fastest electric scooters that will be further reviewed here;
Best rated:

 NANROBOT Power D5+ Electric Scooter

Overall best:

 NANROBOT D4+ High-Speed Electric Scooter

Premium pick:

 QIEWA QPOWER Duble Motors Off-Road Scooter
Best cheap fast electric scooter: Mercane WideWheel Powerful Electric Scooter
Electric scooters offer a fun way to cut down the time of your daily commute. What's more is that you can ride them on all kinds of terrains, whether challenging or not.
The best part is that they are compact, portable, and even come with detachable seats. To top this all off, manufacturers have now added super-fast electric scooters to the game.
If speed is your top priority, you don't have to go through hundreds of electric scooter models available in the market.
We have compiled a list of the fastest electric scooters 2019.
Fastest Electric Scooters 2019
1- NANROBOT Power D5+ Electric Scooter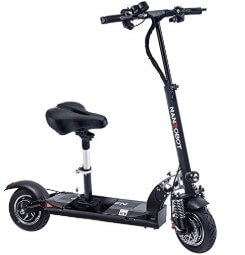 Who is this for?
This scooter will give an insane ride to users who live in hilly areas. Love climbing hills? You'll have a blast feeling this scooter's power.
Key Features:
Two 1000W motors (total 2000W)
A maximum speed of 40 mph
Range of 50 miles
52V 26AH Lithium-Ion Battery
Pros

Cons 

Built-in alarm system
Hand brake for safety
Acceleration handle

The battery takes 10 hours to charge
Heavy
Towards the expensive side
Best Reasons to Buy
Reason #1 Portable Design
The D5+ electric scooter folds and unfolds within seconds. This quick folding mechanism makes the scooter very ergonomic and ensures efficient portability especially in terms of storage.
However, if you are thinking of carrying it through a flight of stairs, do expect some sore muscles.
Reason #2 Premium Quality Brakes
This scooter has exceptional quality front and rear disc brakes. Regular customers often compare this braking system to ABS. NANROBOT keeps safety as the number one priority!
Reason #3 Robust Tires
The tires of D5+ are 10″ thick and highly durable. Hence, this scooter can adapt to a wide range of terrains without giving you a hard time. It will even take you for a safe ride up a steep hill.
2- NANROBOT D4+ High-Speed Electric Scooter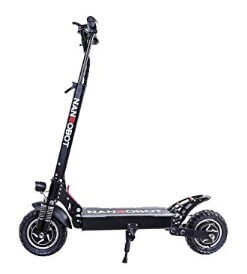 Who is this for?
This electric scooter rules for those adrenaline junkies who love to ride on extremely steep terrains. Feel like climbing a >30-degree hill? This bad boy has got your back.
Key Features:
Two 1000W motors (total 2000W)
52V 23.4AH lithium battery
A maximum speed of 40 mph
Range of 45 miles
Pros

Cons 

Can be folded
Detachable seat
Handlebar height can be adjusted

Squeaking sound when the scooter is rolled while switched off
Very heavy
Weird horn sound
Best Reasons to Buy
Reason #1 Carries a Heavy Load
If you are a tall person with a good build, this scooter won't pose as a hurdle. The design is pretty functional and evenly distributes the weight, preventing strain from accumulating only on the base. It can carry a load as much as 330 lbs.
Reason #2 Awesome Damping System
This scooter ensures a smooth ride even on bumpy roads. The six shock absorbers and 10″ pneumatic tires provide premium level shock absorption. Moreover, the traction of tires is excellent and features anti-slip function.
Reason #3 Safe Emergency Braking System
The scooter comes with front and rear EBS disc brake system. During emergency braking, these brake in a stable manner, and the impact is prevented. No more worrying about flying over the handlebars due to sudden impact!
3- Mercane WideWheel  Powerful Electric Scooter
Who is this for?
This electric scooter is best suited for those who would love an e-scooter for their daily commute. You can even rely on it for those long weekend rides!
Key Features:
Dual 500W motors (total 1000W)
A maximum speed of 25+ mph
Range of 20 miles
13.2 AH lithium-ion battery
Weight limit: 220 lbs
120mm rear disc brake
Pros

Cons 

Innovative design
Lightweight and portable
Easy on the pocket

Throttle doesn't give a smooth acceleration
Warranty only covers the battery
Brakes are not very strong
Best Reasons to Buy
Reason #1 Comfortable Ride
The super-wide airless wheels paired with front and rear suspension ensure the smoothest ride. Ride on a flat road or a bumpy one; you won't even notice.
Reason #2 Trendy Design
This scooter accommodates a chic aluminum alloy construction. This cutting edge design even made a customer say 'this could be Batman's scooter.'
Reason #3 Carrying it Around is a Breeze
It folds up and weighs 50.2 pounds, which is pretty lightweight for an electric scooter. Both of these features combined allow for a very efficient portability.
4- QIEWA QPOWER Duble Motors Off-Road Scooter
Who is this for?
Do you live in a hilly city and need to get up steep hills? This scooter will serve your needs. It is crazy powerful but compact enough to fold up and fit in your office. An ideal choice if you want to lessen the time of commute and reclaim hours of your life.
Key Features:
Dual 1600W motors (total 3200W)
Range of 50-62 miles
A maximum speed of 52-55 mph
11-inch off-road pneumatic tires
Hydraulic brakes
48V 26AH lithium-ion battery
Weight limit: 661 lbs
Pros

Cons 

Has an eco turbo mode for when the battery is low
Folds in 2 seconds
Amazing acceleration

The instruction manual isn't explanatory
Quite Heavy
Expensive
Best Reasons to Buy
Reason #1 Off-Road Tires
This beast comes with 11-inch tires constructed of exceptionally durable material. Their powerful grip performance helps the user to ride on a wide variety of terrains, whether steep, flat, slippery, etc..
Reason #2 Very User-Friendly
Apart from having an ideal 45-degree design and dual shock absorbers, this scooter consists of a controller displaying essential information like battery left, speed, etc.
Moreover, it comes with a finger throttle. As compared to other traditional throttles, this one has a much more comfortable and safer operation.
Reason #3 Cutting Edge Design
Designed to achieve car-level acceleration, this scooter has a unique LED bar on the sides. These add to the scooter's trendy look in addition to performing an essential function i.e., alerting the surrounding vehicles of its presence.
Winding Up on Fastest Electric Scooters 2019
A super-fast electric scooter can significantly cut down the hours of your daily commute. However, higher speed comes at the cost of a higher price and heavier weight.
So, what's the wait for? Use the guidelines in this article to select the best electric scooter in terms of speed, safety, and functionality.
See Also:
Best Cruiser Style Electric Bikes
Best Fat Tire Electric Bikes