TL;Dr: Here is a list of all the best weed grow kits you can buy and also what makes them the best:
Since the laws around this herb are changing, more and more people are looking forward to growing their medication indoors.
Grow kits have everything you need for the growth of your precious, so do not shy from investing in a proper kit: fans, lights, tents, everything. Moreover, buying a package is going to cost you less than purchasing the items individually, and also it is much easier for you to track one order.
In this article, I will review all the best grow kits available in the market and reason out what exactly makes them an excellent choice.
Without further ado, let's get started…
Quick Comparison Chart: Best Weed Grow Kit 2019
In-depth Review: Best Weed Grow Kit
1. Top-rated weed grow kit: TopoLite Grow Tent Room Complete Kit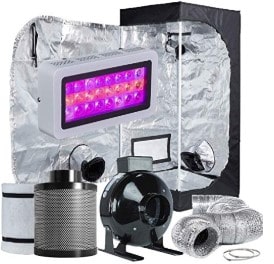 Package includes:
1 x tent (24 x 24 x 48 inches)
1 x light 300W LED Full-spectrum
1 x carbon filter 4-inch
1 x Inline Fan
2 x Steel Hose Clamps
1 x Silver Ducting
All fitting tools and clamps
Who is this for?
This is for those people who want the highest-rated product since they trust a user-tested kit. And for those who do not need other essentials like manure and growing tools.
Pros

Cons

Economically priced
Full-spectrum light
Heavy-duty 600D tent
Carbon coal-based filter
Excellent customer rating

You don't get other peripherals like cutting tools and pots and fertilizers
Best reasons to buy:
Reason 1: Very durable
The tent in this kit is made of 600D polyester, which is military grade. It is tear-proof, and the metal poles for this tent are very thick, giving you a good shelf life.
Reason 2: Thermally protected motor
The fan in this kit is a little old school, and with such raw machines with no heat dispersing mechanism, you need a highly insulated motor which you do get with this fan.
Reason 1: Light for low scale growing
This is an excellent choice for small scale growing. If you have a strain that does not grow too high, this light is ideal.
2. Best grow kit for beginners: The Bud Grower Complete Indoor Grow Kit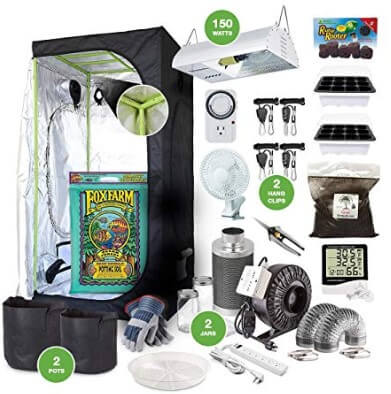 Package includes:
1 x tent (24 x 24 x 60 inches)
1 x light 17,500 lumens HPS 150W
1 x carbon filter 4-inch
1 x Inline Fan
2 x Steel Hose Clamps
2 x Silver Ducting
FoxFarm kind soil "Hot Soil" 5 lb bag
Bushdoctor Coco Loco Potting Mix
All fitting tools and clamps for beginners
Who is this for?
This is a complete grow kit for the people who do not have even one product to start growing weed. From manure, scissors, temperature control, gloves, to tent and fans. This kit has everything.
Pros

Cons

Everything you need for starting your cultivation.
In-tent fan included
Great instructions

Small size tent
Advanced nutrients
Best reasons to buy:
Reason 1: Easy installation
You do not need any tools for setting up this tent. The connectors are well labeled and just needs to be plugged in.
Reason 2: Air Fan Speed Adjuster
Even for a starter kit, it has a fan speed adjuster designed especially for centrifugal fans; this unit correctly and precisely adjusts the fan speed without causing the motor to hum.
Reason 3: Great fertilizer
Foxfarm makes some of the best fertilizers for your marijuana plant. You do not have to worry about your plant's nutrition anymore.
3. Best small size grow kit: Hongruilite Indoor Plant Growing System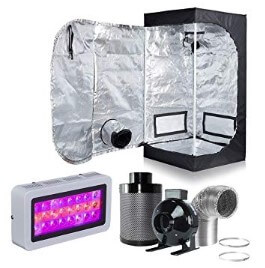 Package includes:
1 x tent (24 x 24 x 48 inches)
1 x light 300W LED light veg lamp
1 x carbon filter 4-inch
1 x Inline duct Fan
2 x Steel Hose Clamps
2 x Silver Ducting 4 inch
Who is this for?
This is a kit for those who have all other peripherals such as soil and tools and just want to grow some more plants in their already established indoor garden.
Pros

Cons

Inexpensive
Full-spectrum light
Steel housing mesh
189 CFM fan
Sturdy tent design

No viewing window
No temp/airflow control
Best reasons to buy:
Reason 1: Low electricity consumption
All the electrical units on this kit combined consume around  0.400 kWh per hour so you will not have to worry about you getting a high electricity bill.
Reason 2: Cooling for the size
Surprisingly, you get a fan much bigger than needed since this is a small tent. Other tents of this size usually do not require such a high powered fan.
Reason 3: Six band spectrums
380~800nm is the range of frequencies you get with this light which is sufficient for a healthy marijuana plant in a kit this size.
4. Best mid-size grow kit: HTGSupply 3 x 3 Grow Tent Kit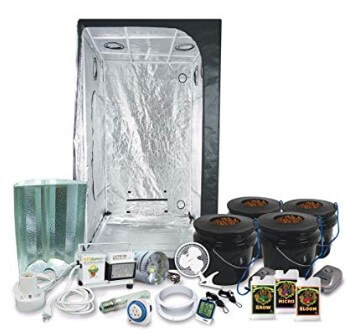 Package includes:
1 x AgroMax Original grow tent (30 x 39 x 85 inches)
1 x HTG Supply 400-watt complete HPS grow light
1 x pair rope ratchet grow light hangers
1 x 120v single-outlet mechanical timer
1 x GrowBright thermometer/hygrometer
1 x 6″ inline fan and flange kit
1 x 6″ clip-on circulation fan
4 x Bubble Boy Single Shot 3.5-gallon DWC hydroponic systems
1 x Advanced Nutrients pH Perfect Grow/Micro/Bloom combo pack, (1-liter bottle of each)
Who is this for?
This is a medium-sized kit for those who are looking to start cultivating a couple of plants and are need of nutrients and all other peripherals.
Pros

Cons

Value for money
Great nutritional items
Everything you need
Four hydroponic systems
Individual instructions
Best reasons to buy:
Reason 1: Agromax tent
Agromax is a very trusted name in the industry of grow tents. They are known for their highly reflective and durable materials.
Reason 2: Only the plant is missing
This kit is the perfect cocktail of all the ingredients you need for your marijuana. This even has the advanced nutrients that the beginners kit does not have for your hydroponic crop.
Reason 3: Great working temperatures
you will not have to worry about the temperatures of operation because this has a range of 0°f ~ 131°f primarily because of the HPS light and other control systems you get.
5. Best large size weed grow kit: TopoGrow 2XLED 600W UFO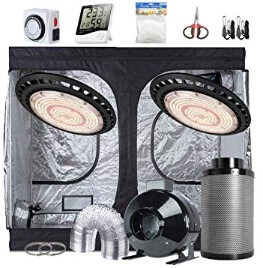 Package includes:
1 x tent (120 x 60 x 80 inches)

2 x 600W UFO LED Full-spectrum

1 x carbon filter and fan ventilation kit 8-inch
Who is this for?
This is for anyone wanting to improve their gardening game up to at least 8-10 plants. Remember, there are no nutrients and other accessories included in this kit.
Pros

Cons

UFO lights
8-inch fans
Full ventilation system
Timer and thermometer
Removable tray floor
Best reasons to buy:
Reason 1: Mylar floor tray for price
You get a mylar floor tray for the price and the size which enhances the reflection inside the tent for the best environment for your plants and also makes cleaning very easy.
Reason 2: Precision control
The multiple intake/exhaust ports that improve vapor and moisture control. The reflective interior lining of the grow tent is engineered with durable reinforced zippers for easy setup.
Reason 3: Great capacity
This is a huge tent. You can comfortably accommodate up to 10 plants without the shelter being to crampy. The light and ventilation system will support the growth of all ten plants very easily.
Summing Up: Which is the best weed grow kit for you?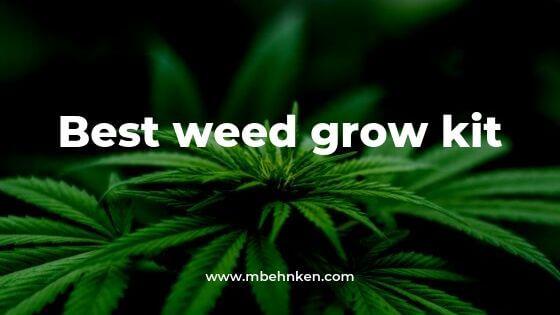 If you already have all the tools and a good supply of nutrients, then the choice is only left between what size do you want.
If you are a mere beginner, you should choose the kit for beginners as it has everything you need and is the right size.
All the kits you see on the list are the best you can find in a market that is already pretty saturated, so you do not have to worry about the quality of the package.
Be sure to check out all the other marijuana-related peripherals I have reviewed.